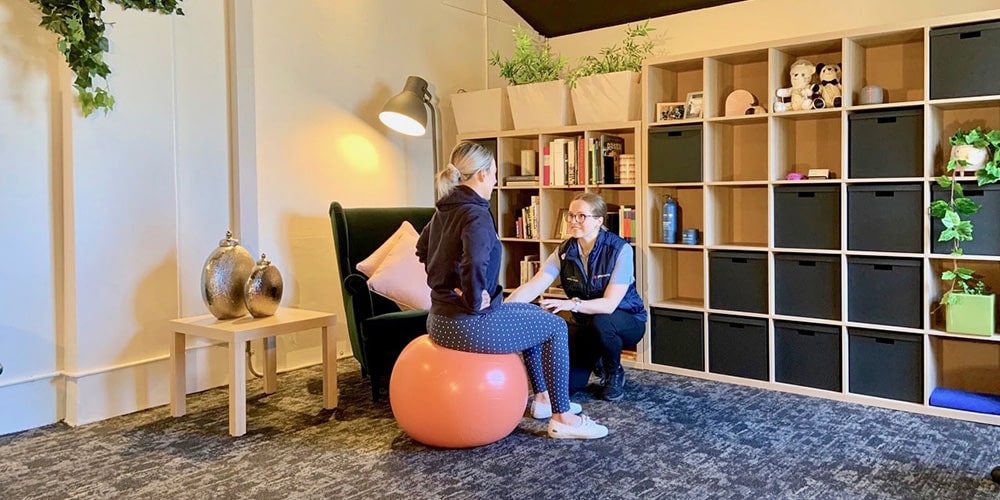 What is Women's Health Physiotherapy? Everything You Need To Know
Friday, July 16, 2021
Women's health physiotherapy is a non-surgical treatment used for a number of women's health problems
Women's health physiotherapy treats a wide range of women's needs in addition to pregnancy and birth support.
Due to hormones, structural makeup, pregnancy and childbirth, women require specific advice when it comes to exercise, flexibility, and dealing with aches and pains in the body.
To give you an idea of the basics of women's health physiotherapy, here, we're going over what it is and what you can expect at your first appointment before diving a bit deeper into pregnancy-related physiotherapy in terms of preparing, healing, and staying active before and after childbirth.
What is women's health physiotherapy?
Women's health physiotherapy helps treat women's health issues such as incontinence, pelvic/ vaginal pain, prenatal and postpartum musculoskeletal pain, osteoporosis, rehabilitation following breast surgery, lymphedema, education prevention, wellness and exercise and so much more.
Women's health physiotherapists can tailor an exercise plan to help you improve a variety of symptoms caused by women's health concerns. For example, bone density naturally decreases during menopause. So, a physiotherapist can help you strengthen your bones and improve your bone health through exercise.
Additionally, strengthening your pelvic floor, especially during and after pregnancy, is a huge component of women's health physiotherapy. Pregnancy and childbirth obviously put a lot of stress on your pelvic floor and it's essential to strengthen this area as much as possible. It'll not only help you during childbirth but also can help prevent incontinence, prolapse and other pelvic floor related issues.
A few of the most common issues you can see a women's physiotherapist to treat include:
Pregnancy-related pain
Relaxation and mindfulness exercises to aid in childbirth
Abdominal separation due to pregnancy
Pelvic floor strengthening during and after pregnancy
Caesarean/Perineal scar management
Bone density concerns related to menopause
Pelvic girdle instability or pain
Urinary or fecal incontinence
Pelvic floor prolapse due to childbirth
Pelvic pain or pain related to sexual intercourse
Overactive bladders
Urinary urgency
Constipation
Antenatal and postnatal exercise
Antenatal and postnatal Pilates
Antenatal massage
Mastitis or Blocked Milk Ducts
Electronic Muscle Stimulation (EMS)
What can I expect from a women's physio?
When you work with a women's physio, you can expect expertise on the unique complexities of the female anatomy (including female hormones) to help you treat various issues related to women's health, pregnancy, menopause, and more.
When you see a women's physiotherapist, you can expect to first be asked about your symptoms, experiences, and goals. If you're seeing a physio for pelvic floor issues, you can also expect to receive a pelvic examination.
It's understandable that you may be nervous about the pelvic exam portion of your physio appointment. Always let your physio know how you're feeling, and they will help reassure you to make you feel comfortable throughout the process.
Generally, a women's health physiotherapy appointment should take around one hour. However, the length of your appointment may vary depending on what treatment you require. In most circumstances, you should expect to wear comfortable clothing in which you can move freely to your women's health physio appointment. Often, you'll be performing low-impact exercises during your session.
It should also be noted that your physiotherapist is required to keep your information confidential. In other words, whatever you discuss during your women's health physio appointment will stay between you and your therapist, only working with other medical professionals who understand your circumstances with your consent.
Also, keep in mind that your women's health physio appointment may be covered by private health extras.
For more information on whether your physiotherapy appointment will be covered by health insurance please see our below articles
Is Physiotherapy Covered by Health Insurance? What You Should Know.
Is Physiotherapy covered by Medicare? Your Complete Guide.
You may also be able to receive a referral from your GP which could allow your appointment to be covered by Medicare. However, the cost of the appointment itself will depend on the treatment you require. Talk to your GP about your options or go over your private health extras for more details.
When should you see a physio when pregnant?
You can see a physio at any point once you become pregnant. Especially if you want to exercise safely and learn what you can do to prepare your body for childbirth, it's never too early to work with a women's health physiotherapist once you fall pregnant.
It's particularly beneficial to see a women's health physio if you start to feel any pain or discomfort in your pelvic girdle, lower back, ribs or hips during your pregnancy.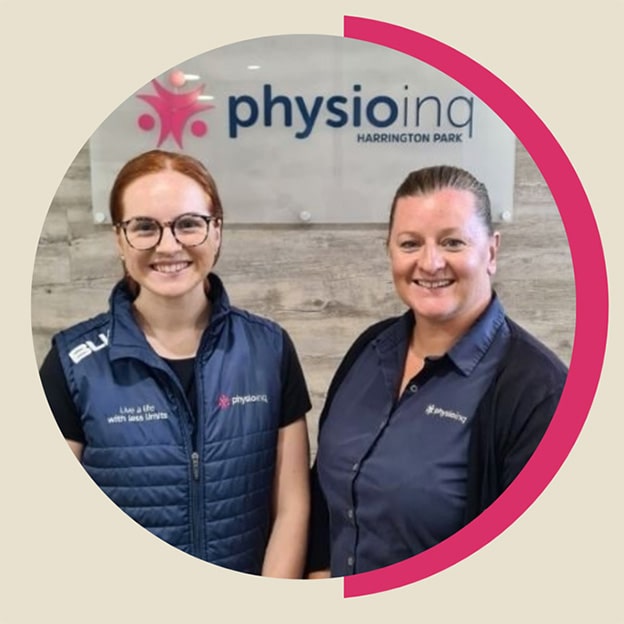 Generally, if you notice any unfamiliar aches and pains, it's best to see a women's health physio as soon as possible to help you work out your options.
Many women will continue to see their physiotherapists even after giving birth to help them with any post-natal issues that many, if not all women face after giving birth. These issues could be as simple as wanting to get back into an exercise routine safely or as important as dealing with extreme abdominal separation and prolapse.
Keep reading to learn a little bit more about pregnancy and post-natal physiotherapy.
What does a pregnancy physiotherapist do?
A pregnancy or women's health physiotherapist can help pregnant women both during and after pregnancy with antenatal, postnatal, and prolapse physiotherapy.
Antenatal Physiotherapy
Antenatal (or prenatal) physiotherapy includes the following physiotherapy treatments for women during their pregnancy.
Childbirth education including birthing classes, relaxation techniques, and stretches to help during childbirth.
How to exercise safely during pregnancy through gentle workouts like yoga and Pilates. Women's health physiotherapists can also offer advice on whether you should stop exercising during pregnancy and how you can safely work out during each trimester.
Treatment of pelvic girdle pain by strengthening the pelvic floor and making postural adjustments.
Postnatal Physiotherapy
Postnatal physiotherapy includes the following physiotherapy treatments for women after they've given birth.
Rectus diastasis (abdominal separation) treatment to rebuild the abdominal wall and improve core activation post-pregnancy.
Re-strengthening the pelvic floor which will always be an issue after giving birth no matter the circumstances.
Returning to exercise post-pregnancy to enjoy a healthy and fit lifestyle safely.
Caesarean scar treatment and connective tissue therapy to help women recover from a C-section during childbirth.
Adjusting to postural changes due to larger breasts, changing weight distributions, and breastfeeding positions.
Prolapse Physiotherapy
Prolapse occurs when the pelvic floor separates from the uterus and drops a significant amount after childbirth.
In Australia, some level of prolapse occurs in around half of all women during childbirth.
Women's health physiotherapists can help women experiencing prolapse in the following ways.
Fitting pessaries which are inserted into the vagina to help support your pelvic floor. Pessaries are removable and can be inserted and removed on your own with the instruction of your physio.
Supplementation recommendations to boost your estrogen levels and rebalance your hormones.
Surgery recommendations are rarely given, however, they are certainly a viable option that your physiotherapist can go through with you.
At what month can a pregnant woman start exercising?
For many pregnant women, you can continue to exercise throughout your entire pregnancy, leading right up to giving birth. However, the types of exercises you should do may vary.
In the first trimester, most women can continue their normal exercise routines. However, if your current workout routine allows for the possibility of being hit or falling (such as rugby, horseback riding, or rock climbing), you'll want to try other exercises that are just as active but less risky for your baby.
During your second trimester, if you're still feeling up to it, you can certainly continue exercising. However, keep in mind, you'll be carrying a bit more weight at this point and you may want to switch to more low-impact exercises like swimming, walking, or prenatal Pilates. It's also not recommended to do workouts that require you to lie on your back for long periods of time. It could cut off your circulation causing you to feel dizzy and unwell.
In the third trimester, you can continue to exercise if you feel comfortable all the way up to the birth of your child. But, again, you'll be carrying a lot more weight now which can cause unnecessary injuries along with achy muscles and joints.
Plus, you'll be using a lot of your energy towards your growing baby, so don't be alarmed if you don't feel as motivated to work out as much as you did before getting pregnant. In the third trimester, it's generally advised to avoid running and jumping as well since this can cause additional pressure to your hips and pelvic floor, creating issues later on.
In most cases, it's safe and, in fact, quite important to stay active throughout your pregnancy as much as possible. After all, labour gets its name for a reason. Your body will need to be strong and flexible to ensure the smoothest birth possible.
But with that being said, the best way to ensure your exercise routine is safe for your pregnancy is by working with a women's health physiotherapist. Based on your unique body and circumstances, your physio can offer a personalised exercise plan that strengthens your pelvic floor, prepares your body for labour, and helps you feel your best throughout your pregnancy.
Then, after you give birth, you can continue to work with your physio to help your body adjust to motherhood and your post-natal body.
If you're struggling with pain in your pelvic area or post-natal issues, or you simply need help with your pregnancy and post-pregnancy exercise routine, please get in touch with one of our expert women's health physiotherapists at Physio Inq.
We're here to help women feel empowered in their bodies whether you're pregnant, you've recently given birth, you're experiencing menopause, and anywhere in between. Book an appointment at one of our clinics across Australia or let our Mobile Services come to you.
Contact us today!
Other useful resources
Retuning to Running after Pregnancy
What Exercise Should I Be Doing During The Third Trimester of My Pregnancy?
Can I Exercise During Early Pregnancy?
When Should I Start To Exercise After My Pregnancy?
Third Trimester Pain and Weakness
Abdominal Separation in Pregnancy
Pregnancy 101 – How Your Body Changes During Pregnancy
10 Ways To Decrease Pelvic Pain In Pregnancy
This article was originally written by Jonathan Moody from Physio Inq
Share the article