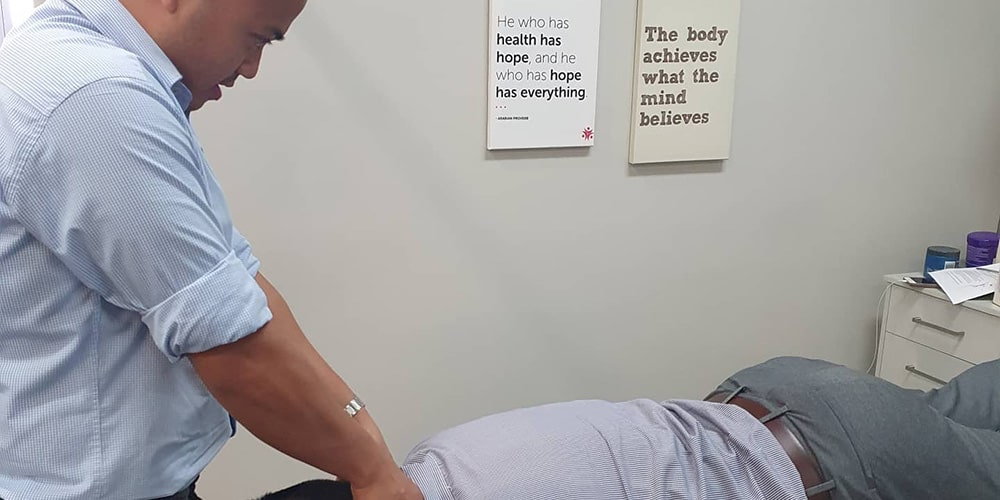 Is Physiotherapy Covered by Health Insurance? What You Should Know.
Sunday, July 4, 2021
Private health insurance could help you cover medical costs that aren't covered by Medicare. These costs might include things like dentists appointments, glasses or physiotherapy.
Different health insurance companies offer many different private health insurance policies and each has its own list of what's covered and not covered.
Here, we will talk about whether or not physiotherapy is covered by health insurance and everything you should know about physiotherapy and private health.
Is Physiotherapy covered by health insurance?
When it comes to physiotherapy insurance, Australia has various options depending on your circumstances. In short, most basic health insurance won't always cover physiotherapy. Instead, you'll get benefits like private hospital cover and ambulance insurance.
However, if you choose an insurance policy that has extras cover, it will most likely include physiotherapy appointments. Each policy has waiting periods and limits but you'll often be able to see a physiotherapist for consultations, follow-ups, treatment plans and rehabilitation if you're covered by private health extras.
Some extras policies even cover physiotherapy services like:
Antenatal therapies during pregnancy
Compression gear
Dry needling
Electrotherapy
Group exercise classes
Hydrotherapy
Still, one stipulation that is usually required if you want coverage to see a physiotherapist is that the service provider needs to be accredited or otherwise recognised by your extras provider. So, it's important to make sure your physiotherapy clinic meets the standards of your particular policy.
Why should you take out health cover for Physiotherapy?
Physiotherapy addresses many health concerns from physical therapy to health conditions to rehabilitation. However, most physiotherapy operates over time with a personalised health plan.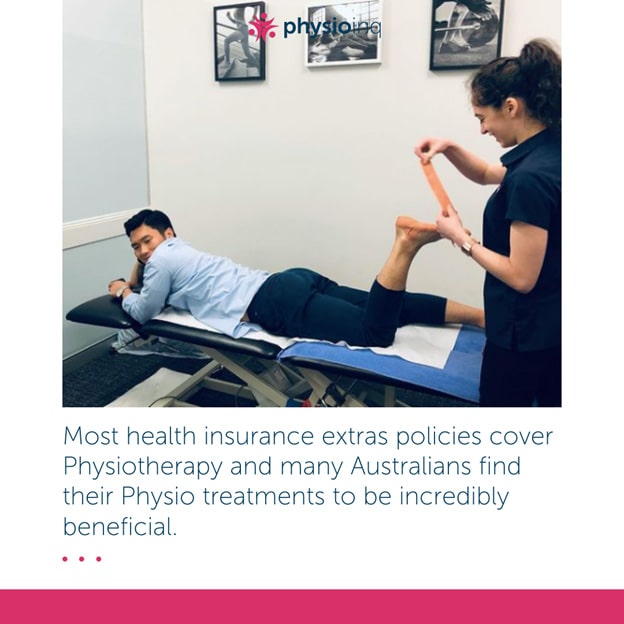 Taking out health cover for physiotherapy is, therefore, a good idea because you won't be seeing a physiotherapist only once. You'll usually need multiple visits to your physiotherapist to complete a treatment plan.
Private health cover with extras will help you pay for regular physiotherapy treatments so that you can improve your quality of life over time. This includes covering the cost of initial consultations, follow-up appointments and long-term treatment plans up to the limits of your policy.
Since physiotherapy is based on evidence-based science, most health insurance extras policies cover physiotherapy and many Australians find their physio treatments to be incredibly beneficial.
Especially if you do not suffer from any pre-existing conditions before you take out private health coverage, your rates will likely be lower.
Overall, taking out private health extras to cover your physiotherapy costs is generally advisable.
Benefits of Health Cover Extras for Physiotherapy
There are countless reasons to see a physio regardless of your activity levels or stage of life. For this reason, many Australians benefit from health cover extras to take care of their physiotherapy costs.
A few reasons why you might benefit from health cover extras for physiotherapy include:
Improvement of movement disorders
Better quality of life when dealing with a chronic illness
Recovery and rehabilitation from an injury
You play sport and are at higher risk of physical injury
Physiotherapy can help with everyday aches and pains as well as common mobility disorders. It's beneficial to take out private health extras to cover your physiotherapy appointments to restore mobile function, reduce pain and increase range of motion. In short, you move, feel and live better when you see a physiotherapist regularly.
Additionally, if you struggle with any of the following health issues, you may benefit from extras cover for physiotherapy.
You're recovering from an accident or injury
You have a movement disorder
You have a chronic illness
You have a neurological disorder such as multiple sclerosis
You play a sport, have a physical job or are otherwise at a high risk of injury
You have suffered from complications in pregnancy
You have poor posture
You suffer from daily neck or back pain
To be clear, you don't need to be a professional AFL player to benefit from regularly seeing a physio. Physiotherapists have developed unique skills and clinical expertise to evaluate and treat your chronic pain through things like exercise programs to improve your overall function and quality of life, no matter who you are or what you do.
Waiting Periods for Physio Covered by Insurance
Most private health extras (and health insurance policies in general) require waiting periods before you can use your benefits. The reason behind this is so that you invest in insurance before you desperately need it.
Each individual policy sets its own waiting periods before you can see a physiotherapist and claim benefits. However, in general, the wait is about two months before you can make a claim for your physio invoice.
Once you serve the waiting period and either maintain the same level of cover or increase your cover, you may be able to switch policies without waiting again.
But, be on the lookout for special promotions from health funds because you'll often see offers for extras cover with no waiting periods to attract new customers.
What are Medicare extras?
Technically, private health insurance extras cover doesn't have much to do with Medicare. In short, Medicare doesn't offer coverage on any extras and requires you to take out private health insurance with extras coverage for anything Medicare doesn't pay for.
Extras cover takes care of the healthcare you receive outside of a hospital and are often purchased in a bundle with private hospital cover.
Keep in mind that extras cover can be purchased on its own and isn't required to be purchased from the same insurer as your hospital cover. If you shop around, you might be able to find a cheaper extras policy than what your hospital policy company can provide.
Health insurance extras are similar to discount vouchers.
You pay the insurance company to reduce your out-of-pocket expenses for services such as:
Dental care
Contact lenses and glasses
Psychology
Physiotherapy
Chiropractic
Home nursing
Podiatry
Prostheses
Plus, it's peace of mind allowing you to make an appointment for these kinds of specialists whenever you might need them.
Depending on which extras policy you choose, you'll likely get a physiotherapy inclusion with one of the following coverage types:
Percentage Benefits: The rebate you'll receive will be a percentage such as 50% of the fee you were charged for eligible physiotherapy claims
Set Benefits: The rebate you'll receive will be a fixed dollar amount such as $45 per eligible physiotherapy claim
In general, you shouldn't expect your extras coverage to cover your entire physiotherapy bill but it certainly helps.
Do you have to pay for Physio if doctor has referred?
Yes, even with a GP referral, you'll likely still need to pay for your physiotherapy appointment.
With a referral, you may not have to pay as much as you would without one, but generally, you'll need to pay some out-of-pocket expenses for your physio treatment, unless you received your treatment as a hospital inpatient, in which case these may be covered by Medicare.
With private health insurance extras cover, you can swipe your insurance card at your physio clinic to pay only the remaining balance or you will pay for the appointment out-of-pocket (sometimes referred to as a 'gap') expenses and submit a claim to your health insurer to get reimbursed for either a percentage of the cost or a fixed rate.
It's also important to remember that many health insurers place a time limit for extras claims which means you shouldn't wait too long to submit your claim. It's best to do so as soon as possible after your appointment.
Tip: Always keep your receipts to ensure you are getting the benefits of your private health cover.
Can you claim Physio on Medicare?
Yes. There are two ways you can claim Medicare benefits from physio treatment.
Public Hospital Admittance: Medicare covers physio treatment provided as a hospital inpatient
Chronic Disease Management (CDM) Program: Certain physio treatments may be covered if they are part of a CDM recommended by a minimum of two health professionals and a GP which include eligible chronic diseases like arthritis, diabetes, cancer, stroke, musculoskeletal conditions and more
Medicare does not cover out-of-hospital physiotherapy and requires private health extras cover.
To learn more about how Medicare relates to physiotherapy, check out our full article on physiotherapy and Medicare here.
What is a EPC plan?
EPC stands for Enhanced Primary Care plan but is now referred to as the Chronic Disease Management (CDM) plan.
With the coordination of your GP and two other healthcare professionals, people with chronic medical conditions that are likely to be present for six months or more are eligible for an EPC/CDM plan.
These conditions include asthma, cancer, heart disease, diabetes, musculoskeletal conditions and stroke and in the case of physiotherapy, allow you to have up to five "free" visits per year.
How do I get an EPC Plan?
Although there is not a clear list of eligible health conditions that qualify for the CDM plan, you can be recommended by a multidisciplinary team including your GP and at least two other healthcare providers who will consider your medical condition and care needs.
Talk to your GP about your medical condition and ask about starting an EPC/CDM plan right if you think you may be eligible.
How long do EPC referrals last?
EPC/CDM referrals will renew each calendar year. So, you'll be able to book up to five physiotherapy appointments each year to help you manage your chronic condition.
--
Physio Inq is an allied health physiotherapy clinic and your appointments with us will be covered by the EPC/CDM plan as well as by your private health extras cover.
If you need to make a referral, please fill out a Physio Inq Allied Health Referral Form.
Find your local Physio Inq and visit one of our convenient clinics for treatment or take advantage of our mobile, in-home physio servic es by booking an appointment today.
Other useful resources
Is Physiotherapy covered by Medicare? Your complete guide
This article was originally written by Jonathan Moody from Physio Inq
Share the article